Disney's Playplace | home
This movie is like the best movie ever made to me. Disney just outdid its self when it released this movie.
Summary of the Movie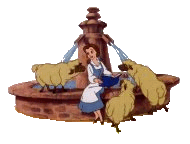 Set in France, it tells the tale of a young and beautiful inventor's daughter named Belle who seeks adventure and more than her ordinary provincial life has to offer. Because of this, she has a passion for reading which takes her imagination to places she has never been. One day, when her father gets lost in the woods, he finds this eerie looking castle and seeks refuge there from the hungry wolves and bitter cold. However, he soon finds out that the castle is the home of the Beast, an arrogant prince cursed into this horrid form until he can earn the love of another.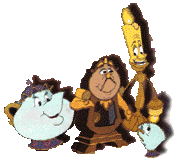 In a fit of rage, The Beast takes the old man prisoner and locks him in a dungeon. Belle goes in search of her missing father and reaches the castle but The Beast refuses to let her father go lest she take his place. Belle agrees, despite her father's objections and promises to stay with the Beast forever. As time goes on, she gets acquainted with the servants of the castle who are also under the spell. They grow fond of her and try to convince both Belle and The Beast that they belong together. This, however, is easier said than done. The Beast eventually becomes a gentler creature and learns compassion. Belle soon finds that she is falling in love with him and sees through his mere physical appearance.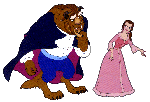 Unfortunately, Gaston, a pompous hunter back in the home village, seeks to destroy the Beast and force Belle to marry him. In the end, there is a huge battle at the castle where the people of the village fight against The Beast and his servants. The final confrontation comes between Gaston and The Beast where the beast has gaston by his thoat about to throw him off the roof of the castle but doesn't because of his love for belle. he lets gaston go and goes to be with belle. Gaston then seizes the opportuninty and stabs Beast in the back and gaston is throw off the roof and dies. Belle then confesses her love for Beast as the last petal falls and the beast and his castle and servants are transformed to their natural selves!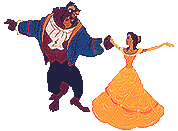 Directed by: Gary Trousdale & Kirk Wise

Written by: Roger Allers
Music by: Alan Menken & Howard Ashman
Released on: November 22, 1991
Running Time: 84 minutes
Box-Office: $145 million in the U.S., $351.2 million worldwide
Imax Re-Release: an additional $25.5 million in the U.S., $28 million worldwide
Video Revenue: $117.7 million in 2002 DVD and VHS rentals and sales



CAST

Belle... Paige O'Hara

Beast... Robby Benson

Gaston... Richard White (I)

Lumiere... Jerry Orbach

Cogsworth/Narrator... David Ogden Stiers

Mrs. Potts... Angela Lansbury

Chip... Bradley Michael Pierce

Maurice... Rex Everhart

LeFou... Jesse Corti


ACADEMY AWARDS: Winner Best Song (Beauty and the Beast) and Best Score. Nominated for Best Picture, Sound, Best Song (Be Our Guest) and Best Song (Belle).