Disney's Playplace | home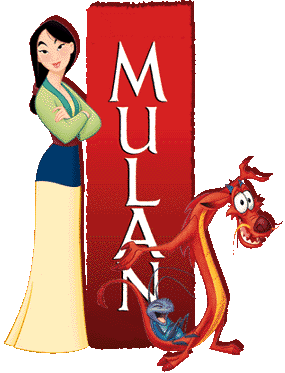 Embraced for her lovable, spirited nature, Mulan is a young girl who doesn't quite fit into her tradition-bound society. When the invading Hun army comes charging over China's Great Wall, Mulan's aging father is ordered into battle! To spare him from harm, Mulan disguises herself as a soldier and secretly takes his place in the Imperial army, training with a comical, ragtag troop led by the courageous Captain Shang.
Never far away are Mulan's hilarious guardian dragon, Mushu, and lucky cricket, Cri-Kee. But Mulan will need more than Mushu's razor-sharp wit to defeat the ruthless Hun leader Shan-Yu. Only by staying true to herself will she bring victory to her country and honor to her family!
Directed by: Tony Bancroft & Barry Cook
Written by: Robert D. San Souci, based on an anonymous poem
Music by: Jerry Goldsmith, Matthew Wilder & Vanessa-Mae Nicholson
Released on: June 19, 1998
Running Time: 88 minutes
Budget: $70 million
U.S. Opening Weekend: $22.745 million over 2,888 screens
Box-Office: $121 million in the U.S., $303.5 million worldwide
CAST
Fa Mulan/Fa Ping... Ming Na-Wen & Lea Salonga (singing)
Captain Li Shang... B.D. Wong & Donny Osmond (singing)
Mushu... Eddie Murphy
Yao... Harvey Fierstein
Emperor... Pat Morita